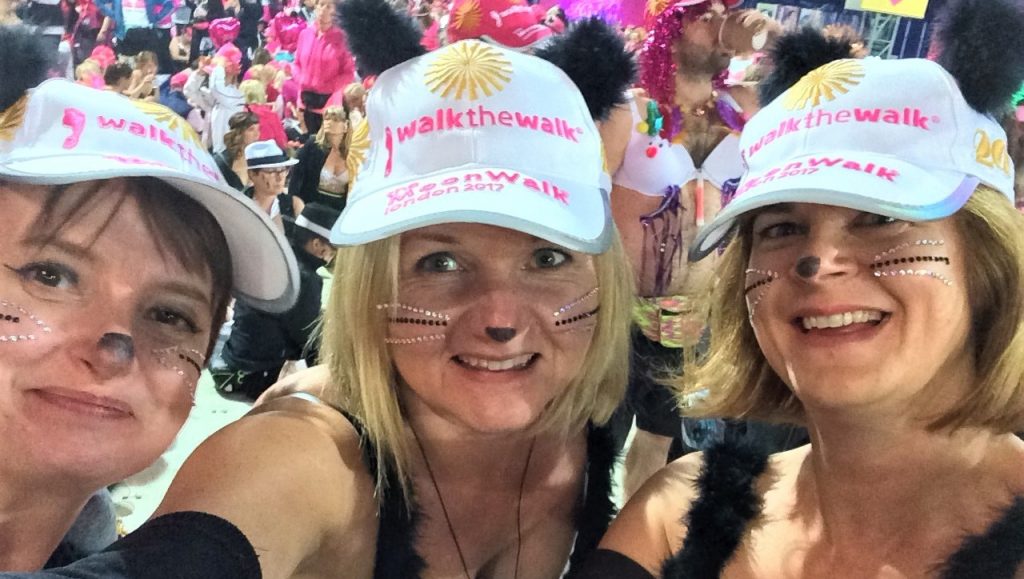 Charity events make me emotional. Just play the opening bars of the London Marathon BBC theme music and I well up.
It's good that I'm passionate about fundraising, as this is my job! #luckyme. I'm an Account Director at the fundraising and social change agency ChangeStar. But thus far, I have mostly been a serial sponsorer. I've stood on the sidelines, albeit as a very loud and excitable supporter.
This year is different! I'm very proud to have taken part in the London Moonwalk 2017 for charity Walk the Walk, and what an unforgettable experience it has been. Choosing an event from the ChangeStar Charity Calendar, I was looking for a major event with thousands of participants, something with the fun factor, and a physical challenge I was capable of achieving, as a forty-something of mediocre fitness. That Walk the Walk is a breast cancer charity was the deciding factor, since I've been shocked to hear of this diagnosis recently for relatives and friends, also in their forties.
And yes, I fancied the liberation of hot-footing across Battersea Bridge in my bra!
It costs just over £50 to enter the London Moonwalk, which I initially thought quite a high fee, but I've since totally revised this view. The T-shirt, cap and bra that Walk the Walk send entrants are really high quality, and wait until you see the gargantuan marquees that grace Clapham Common on the night, as the starting venue! An army of volunteers support the charity to make the event run really smoothly, so the organisation clearly runs very efficiently.
Walk the Walk partner with Everyday Hero for their online fundraising pages. I rewrote the template text on my page from scratch, as I wanted to communicate more clearly (ie in the first few words) about the breast cancer research and support to which the sponsorship money would go, and also add personal, light-hearted touches.
My fundraising got off to a rocky start, with Facebook pleas unfulfilled, but gradually generous family members and colleagues came up trumps, impressed that I should propose to walk further than the mile to the nearest branch of White Stuff. And on the night – wow – I was ecstatic to receive sponsorship from old friends right across the globe, thanks to successful Facebook posts. Let's face it, at ChangeStar we know how to successfully ask for donations!
Female camaraderie is a big part of the fun of Moonwalk, and my mates threw themselves into the preparations for the big night, starting with a hilarious bra-decorating evening of glue guns, sequins and feather boas, and comparing the wobble of our assets in their new Wonderbra casings.
At this point I will confess that we selected the 'Half Moon' option, of 'only' 15.2 miles, and we did giggle when svelte ladies in pink caps swiftly overtook us near the end, who were completing their 26.2 miles faster than we were our lesser distance in our white caps! On the whole, the demographic of participants was slightly younger than I expected, though I'd encourage older ladies to take part, particularly if they have the time to undertake the training.
The Half Moon was definitely enough of a physical challenge for me, and the route took us past incredible London skylines including the landmarks of Big Ben, Tate Modern, St Paul's and Tower Bridge. In fact, seeing so much of my capital city looking glorious by night was one of the highlights of the event for me.
Recommended cheesy singalong tune for the journey home from Moonwalk with your bosom buddies? It's got to be Whitney Houston's 'One Moment in Time,' à la 1988 Olympics.
What have I learnt from the Moonwalk experience?
That 12 year old boys are HIGHLY embarrassed by their Mums who strut around London in their bras, and post the evidence all over Facebook. Tough.
That I have massive admiration for Walk the Walk's founder, Nina Barough.
That you should try to sponsor every single friend who asks, for every charity event, as even £5 is truly a boost.
That if you work in the charity sector like me, you must take every opportunity to step away from your desk and BE a supporter as well as a professional fundraiser.
That there is no greater sense of elation than pushing your own boundaries.
I will definitely be taking part in more charity events; you can find a fantastic selection here on the ChangeStar Charity Calendar. I came up with the idea to create this 'What's On for Charities' guide three years ago, when I realised that there was no other significant online resource that provided a listing of charity fundraising events and awareness days for free. It has proved very useful to UK charities in planning their events, but also in promoting them to the public. Therefore many charities including Macmillan Cancer Support, Friends of the Earth and Unicef have contacted us to add their events. We produce it with the aim of encouraging more people to take part in charity events and raise lots of cash for good causes.
To find out more about the London Moonwalk, visit www.walkthewalk.org
By Kate Wright
Account Director, ChangeStar