In this session our Director, Richard Docwra, is joined by is joined by James Huitson – Senior Global Fundraising Manager at Care International – to discuss 'How to transform your income from legacies'.
Many charities still aren't making the most of their legacy fundraising and their opportunities to gain gifts in wills. In this session we discuss a very simple approach to planning and executing a legacy programme that has helped charities increase their number of legacy pledgers by up to 800% year on year. We describe an incredibly simple and effective '1 page legacy plan', talk through an example of a legacy pack we've developed and provide plenty of practical insight and lessons that you can apply immediately to increase the income you get from legacy fundraising. You can't afford to miss this one!
Scroll down to see a picture of the legacy pack that we discuss in this session.
Here is the video of the session:
Please feel free to share it with your contacts and colleagues!
This session was part of our series of Friday Fundraising Calls, which take place on the first Friday of every month (or thereabouts) and aim to bring fundraisers together and share some ideas and insights on how to do fundraising better. In each episode we are joined by a senior, experienced fundraiser to share their insights and experiences on a topic of particular practical interest and importance – from how to recruit new supporters to how to get the best from cash appeals.
We've got some great people lined up in the coming months so please do sign up to our mailing list to receive news of future sessions and sign up for them. Sign up here http://eepurl.com/dkMhLv
Below is a picture of the legacy pack we developed for Sightsavers.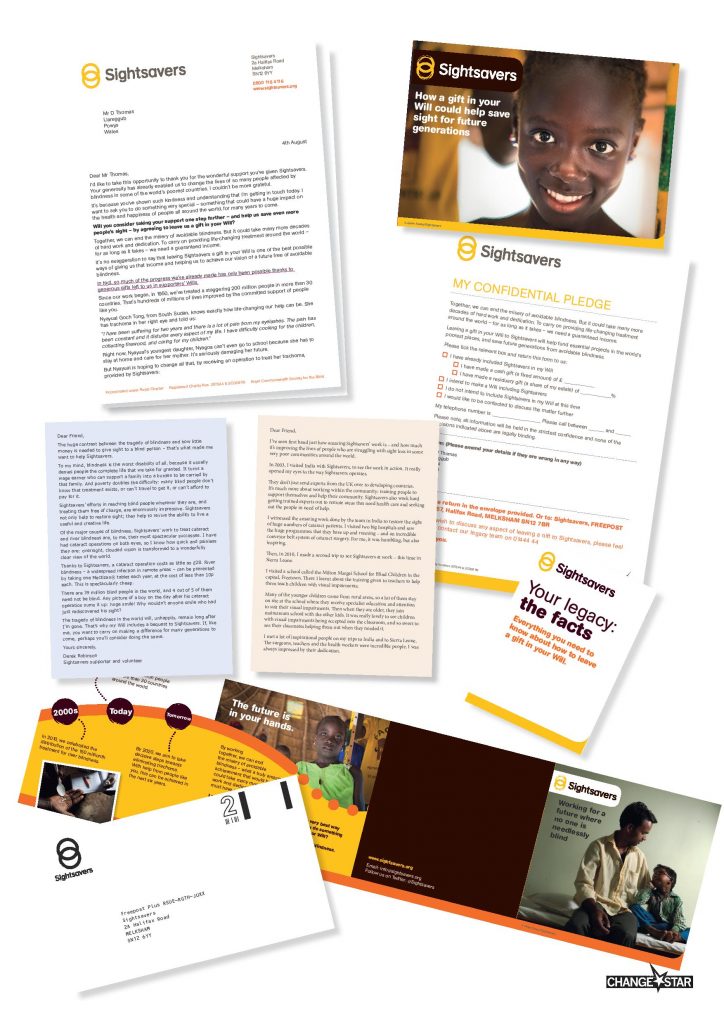 Can we help?
If you would like some help to build or improve your individual giving programme, do get in touch with us – richard@changestar.co.uk. We've decades of experience and success of working with large and small charities on strategy and creative to help them build their income.